Review: Rana Ahmad – Frauen dürfen hier nicht träumen
Two things first, this is not a work of fiction I am going to review, this is an autobiography/ the story of the author's escape from a life in an oppressive and repressive regime, and it is not available in English. I really hope it will be very soon, though, because it is one of those books you should have read before you die. As you may have guessed from the title, Frauen dürfen hier nicht träumen is a book originally published in Germany, it is also available in French: Ici, les femmes ne rêvent pas: RECIT D'UNE EVASION (GLOBE).
But now, on with the review:
Frauen dürfen hier nicht träumen is the story of the author's, Rana Ahmad, life in Syria and Saudi Arabia and of her escape from that life. It is a first hand account of religion and tradition backed patriarchy and the suppression of women. It also provides general insights into everyday life in Syria and the quasi-theocracy of Saudi Arabia and it is genuinely terrifying.
Rana learns very quickly that life is very different in her society depending if you are a boy or a girl. While boys have all the freedoms in the world, girls and women are completely under the control of their male relatives and husbands and get dictated what to wear, what to do, whom to marry etc. This does lead to horrible results, as Ms Ahmad describes on many occasions.
Many women among Ms Ahmad's friends and family suffer in their marriage because of their husbands. Even more have to endure almost constant harassment by in-laws, siblings, the religious police. The list goes on.
There are also some extremely dark passages in which Rana Ahmad describes in no uncertain terms what some men think their right is. How different the law reacts whether you are a man or a woman and how some men (most often family) take the law into their own hands, knowing they may just get away with a slap on the wrist.
On three occasions, I had to put the book down and do something else, because I was so horrified and infuriated by what was described.
It is this unjust mistreatment of women and the bizarre difference in power, that lets Ms Ahmad first question the validity of Islamic morals and the societies who uphold those morals.
Another thing that shocked me, although I was vaguely aware of it, is the lack of scientific education in the Arab world. The Koran takes precedence over everything and nothing that would contradict it is taught in school or even university. That Ms Ahmad had to go underground on the web so to speak in order to get her hands on certain facts and certain books and that part of the book was just like a cyberpunk thriller in real life. The Arab world (or at the very least Saudi Arabia and Syria) seem to be a completely different world.
It is in this part of the web that is forbidden in Saudi Arabia, where Ms Ahmad first find allies and then friends and it is with their help that her plans to flee take shape.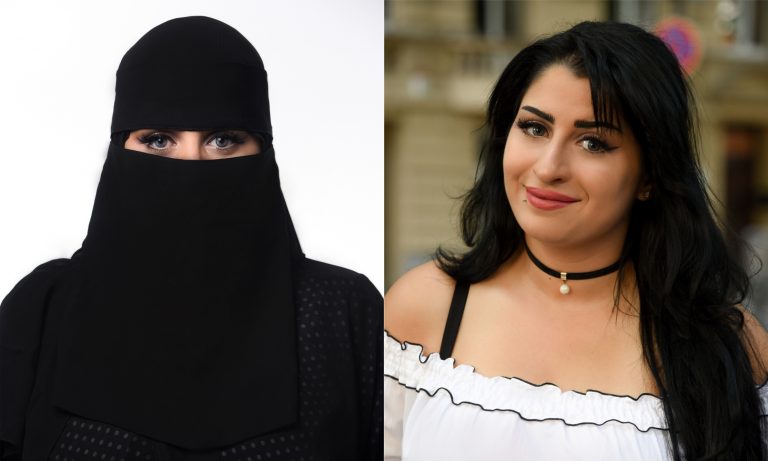 Luckily, there are also some very bright and happy things in Frauen dürfen hier nicht träumen:
The love between Ms Ahmad and her father, the friendship that connects her to female friends and relatives, many of which share the same horrible experiences, if not worse, and of course, her quest for knowledge and freedom. Her little acts of rebellion that need so much courage in the society Ms Ahmad used to live in.
The elation when Ms Ahmad finally finds her place in the world, when she realizes she is not crazy for rejecting the values of her society and Islam is contagious and jumps at you from the pages of the book. From that point on, Frauen dürfen hier nicht träumen becomes a much easier read, happier, brighter, although her actual escape first to Turkey and then to Germany is once again tense and harrowing.
Obviously, the story has a happy end. Ms Ahmad makes it to Germany, finds new friends and even co-found an initiative to help people like her: https://atheist-refugees.com/, please check it out and consider supporting. I do.
In conclusion: Frauen dürfen hier nicht träumen is an often harrowing but also enlightening and inspiring read. It shines a stark light on the harsh reality of everyday life for many women in the Arab world, especially in conservative families and countries. But it is also a reminder, that humanist values, friendship, love and scientific education can change things for the better.
10 out of 10 beacons of hope, what else could it be.